The Florence Residences 悦湖苑 @ Hougang/ Kovan (D19)
Former HUDC, Florence Regency | The Florence Residences 悦湖苑
Hougang Ave 2 | 99-year, TOP 2023
A 99-years leasehold condominium project developed by Fortune 500 developer, Logan Property Singapore, The Florence Residences comprises of 9 buildings with 18 floors and 1410 residential units on the site area of 386,236 sq.ft. There are several unit types consisting of 1 – 5 Bedroom adorned with quality fittings and finishes for your enjoyment. With double volume ceiling height penthouses at the top level 18, this project is stipulated to complete in March 2023 if not earlier.
Biophilic by design, The Florence Residences creates quality spaces and design patterns, which go beyond aesthetics by incorporating natural green elements, giving you the freedom to connect and interact with nature. It brings about a mental state of balance and calm, as you feel a sense of closeness to the living things that surround you. Inspired by the very essence of biophilia, discover a modern sanctuary of many organic curves.
The project boasts of 12 Clubs & 128 Facillities, wherein every turn is a lovely surprise that lets you experience something new each time, so you feel that you never really left nature. As you make your way inside the sophisticated Arrival Plaza, our Resident Concierge is always on hand to attend to all your lifestyle needs. Awaits you are Complimentary Lifestyle activities & Shuttle Bus to the nearest MRT for 2 years.
LIVE EFFORTLESSLY IN A SMART HOME WITH WELL-DESIGNED STORAGE SPACE.
At The Florence Residences, room is made for more of the best for you to live effortlessly smart. From smart home technology made simple to thoughtfully designed smart storage solutions for your every need.
SMART SPACES. IMPECCABLE CRAFTSMANSHIP.
SMART LIVING AT YOUR FINGERTIPS (photos f

or impression only)
Located at 81-97 Hougang Avenue 2 within a low-rise neighbourhood in District 19, The Florence Residences is within the Kovan Planning Subzone of Hougang Planning Area, North East Region. The development advantaged by several factors such as being situated in a matured estate whereby major amenities such as the Sports Complex/ Stadium, Polyclinic, Schools, Malls & MRT stations surround it. It is also within close proximity to Hougang Mall, Kovan Heartland Mall & a myriad of famous food places.
The red line marks the Kovan Planning Boundaries where The Florence Residences resides within (by URA Northeast Region)
On top of that, The Florence Residences is right smack in the middle of principal MasterPlanning in D19 such as the upcoming Cross Island Line, Hougang MRT which is an Interchange (1st phase with 12 stations to open by 2029), Buangkok Integrated Transport Hub, 'Next Generation' Workplaces such as Defu-Industrial-City-Masterplan (estimated to complete in 2020/1), Lorong Halus Industrial Park, Punggol Digital District, Seletar Aerospace & Loyang Aviation Park.
The Florence Residences, between 2 MRT stations, Kovan & Hougang (Interchange)
To Fix an Appointment or for Further Details such as Floor Plans & Prices, please Call/ Text 9009 5055.
Some Facts & Details about The Florence Residences at Hougang Ave 2
Project
THE FLORENCE RESIDENCES – an iconic private condominium project that brags a wide frontage, facing the cross junction of Hougang Ave 2 & 10.


Strategically located between Hougang & Kovan MRT stations in the matured Kovan subzone of the Hougang estate.

Developer

Logan Property

Established in 1996, Logan Property Holdings Company Limited is a well-renowned integrated real estate developer and was listed on the Hong Kong Stock Exchange in 2013. The Group has received Grade-A qualifications in property development, general construction contracting and engineering design. Over the years, the Group has built a strong track record in building numerous residential properties in China and is well-known for its quality developments in the Guangdong-Hong Kong-Macau Greater Bay Area, having developed 250 million square feet real estate.

Best Property Developer

To date, the Group is considered as one of the best property developers in China and has expanded its business to overseas markets such as Hong Kong and Singapore. Logan Property's mission of 'Building a Better Life' has led to the creation of over 150 residential projects and has improved the quality of over 600,000 lives. Logan Property has been awarded The Typical Projects of China Real Estate Developers Award from 2016-2018 for its work on the Great Bay Area of Guangdong-Hong Kong-Macau. The Group was ranked 26th in the China Top 100 Real Estate Developers, 3rd in Top 10 value investment stock and 266th in Fortune China's Top 500 Enterprises in 2018 – a testament to Logan Property's expertise and continuous commitment to excellence.

In Singapore, Logan Property's Stirling Residences has received 5 awards in the 2018 Property Guru's Asia Property Awards, including 'Best Condo Development (Singapore)'', 'Best Private Condo Development' and 'Best Private Condo Architectural Design'.

Architect
P&T Consultation Pte. Ltd.
Location
81, 83, 85, 87, 89, 91, 93, 95, 97 Hougang Ave 2, Singapore 538859/ 60/ 61/ 62/ 63/ 64/ 65/ 533754/ 53


(Former Florence Regency HUDC enbloc site, cross junction of Hougang Ave 10)

Easy access to City area via CTE/ PIE.

2 Side Gates:

Florence Road – approx 10 minutes walk/ 2 minutes drive to Food Joints & Heartland Mall/ Kovan MRT.
Realty Park/ Hougang Ave 10 – approx 10 minutes walk/ 2 minutes drive to Hougang Mall & MRT. 6 mins walk to future Hougang Interchange (CRL line).

District
D19 (Hougang/ Punggol/ Sengkang)
Tenure
99 year leasehold
Development Size
1410 residential units with full facilities
Carpark
1410 parking lots excluding 9 handicap lots, 10 visitor lots & 2 washing bays
Expected TOP:
31 March 2023
Site Area:
Approximately 36,161.20 sqm (389,239 sqft)
Unit Types & Configuration
9 blocks of 18-storey buildings with 7/ 9/ 11 stacks each block (Total: 81 stacks)



1BR

1 Bedroom C – 474 to 603 sqft (216 units, 15.32%)

1 + Study [Types 1S1, 1S1(G), 1S1(PH)] – 527 to 667 sqft (72 units, 5.11%)




2BR

2+ Study [Types 2S1, 2S1(G), 2S1(PH), 2S2, 2S2(PH)] – 700 to 926 sqft (52 units, 3.69%)

2 Bedroom Classic [Types 2C1, 2C1(G), 2C1(PH), 2C2, 2C2(G), 2C2(PH), 2C3, 2C3(G), 2C3(PH)] – 624 to 807 sqft (264 units, 18.72%)

2 Bedroom Deluxe [Types 2D1, 2D1(G), 2D1(PH), 2D2, 2D2(G), 2D2(PH), 2D3, 2D3(G), 2D3(PH), 2D4, 2D4(G), 2D4(PH), 2D5, 2D5(G), 2D5(PH), 2D5a, 2D5a(G), 2D5a(PH)] – 646 to 915 sqft (292 units, 20.71%)




3BR

3 Bedroom Classic [Types 3C1, 3C1(G), 3C1(PH), 3C2, 3C2(G), 3C2(PH), 3C3, 3C3(G), 3C3(PH), 3C3a, 3C3a(b), 3C3a(PH), 3C4, 3C4(G), 3C4(PH), 3C4a, 3C4a(G), 3C4a(b), 3C4a(PH), 3C5a, 3C5a(b), 3C5a(G), 3C5a(PH), 3C6, 3C6(G), 3C6(PH), 3C6a, 3C6a(b), 3C6a(G), 3C6a(PH), 3C7, 3C7(G), 3C7(PH)] – 893 to 1206 sqft (232 units, 16.45%)

3 Bedroom Deluxe [Types 3D1, 3D1(PH), 3D1a, 3D1a(b), 3D1a(PH), 3D2, 3D2(G), 3D2(PH), 3D2a, 3D2a(b), 3D2a(G), 3D2a(PH), 3D3a, 3D3a(b), 3D3a(PH), 3D4a, 3D4a(b), 3D4a(G), 3D4a(PH), 3D5a, 3D5a(b), 3D5a(G), 3D5a(PH)] – 990 to 1281 sqft (154 units, 10.92%)




4BR

4 Bedroom Classic [Types 4C1a, 4C1a(b), 4C1a(PH), 4C2a, 4C2a(b), 4C2a(PH), 4C3, 4C3(PH), 4C4a, 4C4a(b), 4C4a(PH)] – 1270 to 1582 sqft (64 units, 4.54%)

4 Bedroom Deluxe [Types 4D1a, 4D1a(b), 4D1a(PH)] – 1389 to 1701 sqft (16 units, 1.13%)




5BR

5 Bedroom [Types 5B1, 5B1(PH), 5B2, 5B2(PH)] – 1668 to 1916 sqft (48 units, 3.4%)

Total: 1410 units

Facilities
Arrival Plaza • Arrival Waterwall • Arrival Reflective Pool • 24/7 Parcel Collection Corner • Arrival Water Court • Concierge • Changing Room • Steam Room • Dining Suite • Multi-purpose Suite • Theatrette with Karaoke • Laundrette • Palm Courtyard • Gym • Jamming Studio • Reading Room/Library • Verandah Dining • Island Lap Pool – approx.1640sqm • Island Lounge Pool – approx.150sqm • Coastal Pool • Island Pool Deck • Sun Bathing Lawn • Tai-chi Lawn • Elderly Fitness • Island Look-out Deck • Day Bed Deck • Sand Lounge • Waterwall • Deck • Ripple Bay • Mystery Island • Discovery Island • Palm Island • Stepping Stone • Chill-out Swing • Chill-out Cabana • Water Swing • Yoga Lawn • Hydrotherapy Cove Pool • Jacuzzi Cove • Hydrotherapy Pods with Water Cascade • Bubble Cove • Aqua Bike • Aqua Moonwalker • Aqua Incline Treadmill • Aqua Treadmill • Onsen – approx 10sqm • Hot Plunge • Cold Plunge • Hydrotherapy Pavilion • Hydrotherapy Pool Deck • Wellness Salt Pool (0.9m Deep) – approx 110sqm • Wellness Salt Pool (1.2m Deep) • Wellness Pool Deck • Meandering Pool – approx 170sqm • Aquaplay Water Mounds • Aquaplay Water Jets • Aquaplay Water Spouts • Aquaplay Water Curtain • Water-Tipping Bucket • Tropical Bridge • Water Basketball • Kid's Pool – approx 110sqm • Toddler's Pool – approx 100sqm • Water Splash (Steep) • Water Slide (Shallow) • Adventure Island • Tree Hammock • Kid's Play • Toddler's Play • Inclusive Play • Kid's Club Pavilion • Kid's Outdoor Fitness • Trampoline • Meandering Deck • Tennis Court • Multipurpose Court • Bouldering Wall • Outdoor Movie Screening • Punch Bag Corner • Sparring Ring Pavilion • Amphitheatre • Youth Games Corner • Outdoor Fitness • Garden Hammock • Rock Cascade Reflective Pool • Italian Pavilion • Summer Picnic Lawn • Giant Outdoor Chess • Summer Alfresco Lawn • Pool Table with Dart Board Pavilion • Chinese Tea Pavilion • Meditative Walk • Ferns Garden • Tropical Garden • Sensory Spa Pavilion • Meditative Garden • Fireflies Garden • Reeds Garden • Wine & Chill Pavilion • Lily Pond • Fishing Eco pond • Nature Garden Trail • Reading Pavilion • Bamboo Garden • Forest Swing • Jogging Track • Biker's Pavilion • Biker's Grooming Corner • Car Wash Bay • Heliconia Garden Walk • Garden BBQ • Short Mat Bowling Lawn • Putting Green • Ikebana Pavilion • Fragrance Garden • Oriental Gourmet Pavilion • Herbs Garden • Green Fingers Garden • Hanging Garden • Japanese Pavilion • Mondo Grass Garden • Palm Garden • Reflexology Path • Outback Grill • Lobby Reflective Pool • Lobby Garden
Eligibility
Singapore Citizens, Permanent Residents (PR), Foreigners eligible
Fly through of The Florence Residence's 12 Clubs & 128 Facilities[/caption]
Amenities near The Florence Residences
Category
Important Amenities Nearby
Approximate Distance
Train Stations
Hougang Interchange (CR8)
Hougang MRT (NE14)
Kovan MRT (NE13)
Defu MRT (CR7)
Serangoon North MRT (CR9)
Buangkok MRT (NE15)
0.45km
0.71km
0.86km
1.45km
1.64km
1.92km
Bus Stop
Opp Blk 709 (Bus: 854, 854E, 325, 25, 82, 55, 62, 62A, 132, 107, 107M, 112, 113)

Blk 708 (Bus: 55, 62, 82, 25, 107, 107M, 112, 113, 132, 325, 854)
0.23km


0.25km
Supermarkets
NTUC Fairprice (Hougang Blk 682)
Cold Storage Hougang
Giant (Hougang Plaza)
NTUC Fairprice (Hougang Lifestyle Mall)
NTUC Fairprice (Hougang Blk 202)
NTUC Fairprice (Hyper Hougang One)
Giant (Hougang Green Shopping Mall)
NTUC Fairprice (Serangoon Blk 152B)
Giant (Kovan Centre)
Giant (Buangkok Crescent)
NTUC Fairprice (Compassvale Link)
Giant (Serangoon North Ave 3)
Sheng Siong Hypermarket (Serangoon North)
0.8km
0.81km
1.0km
1.01km
1.06km
1.32km
1.42km
1.6km
1.75km
1.8km
1.86km
1.91km
1.95km
Shopping Malls
Heartland Mall (Kovan)
Kangkar Mall
Hougang Mall
Upp Serangoon Shopping Centre
NEX
myVillage Shopping Mall
AMK Hub
0.88km
0.95km
0.97km
2.2km
4.0km
4.3km
5.5km
Educational Institutions
Childcare & Pre-schools
My First Skool (Blk 706 Hougang Ave 2)
Pat's Schoolhouse Serangoon (Lim Ah Pin Rd)
My World @ Hougang (Metropolitan YMCA)
PCF Paya Lebar (Blk 23 Hougang Ave 3)
Little Paddington Preschool (Jln Tani)
Cherie Hearts @ Charlton
Amar Kidz (Blk 406 Hougang Ave 10)
MerlionKids International Preschool Kovan (Poh Huat Cres)
0.27km
0.45km
0.7km
0.85km
1.2km
1.8km
2.4km
3.3m
Primary Schools
Xinmin Primary School
Holy Innocents' Primary School
Montfort Junior School
Xinghua Primary School
Yio Chu Kang Primary School
CHIJ Our Lady of the Nativity
Hougang Primary School
Rosyth School
Punggol Primary School
Paya Lebar Methodist Girl's
0.69km
0.74km
0.84km
1.04km
1.27km
1.39km
1.43km
1.51km
1.55km
1.88km
Secondary Schools
Xinmin Secondary School
Montfort Secondary School
Yuying Secondary School
Bowen Secondary School
Holy Innocents' High School
Hougang Secondary School
Paya Lebar Methodist Girls' Secondary School
0.8km
0.85km
1.11km
1.16km
1.18km
1.33km
1.76km
Junior Colleges
Anderson Serangoon Junior College (Holding)
Nanyang Junior College
0.5km
4.7km
International Schools
DPS International School
Dimensions International College (Main)
Lycee Francais de Singapour
Stamford American International
1.41km
2.56km
3.3km
7.7km
Tertiary Institutions
ITE AMK
Nanyang Polytechnic
Dimensions International at Kovan
James Cook University at Sims Dr
Singapore Management University at Dhoby Ghaut (8 stops/ approx 20mins from Kovan MRT)
5.9km
6.6km
Eateries
Ponggol Nasi Lemak
Heng Long Teochew Porridge


Myriad of food joints along Upp Serangoon & Simon Road shophouses, Upper Serangoon Shopping Centre, Kovan Market & Food Centre, Heartland Mall (Kovan), Kangkar Foodcourt (Hougang), Hougang Central/ Mall

0.55km
0.7km
Lifestyle
Hougang Stadium & Swimming Complex
Serangoon Stadium
The Girls Brigade
Kovan Sports Centre
Serangoon Country Club
PUB Recreation Club (Woodleigh)
0.43km
1.76km
1.4km
2.2km
4.4km
4.6km
WHY "THE FLORENCE RESIDENCES"?
Proximity to 2 MRT Stations!
Access through the development's side gates to Kovan MRT via Florence Road or to Hougang MRT via the Realty Park landed enclave.
Be even nearer to Hougang MRT Station (CRL)
With the media's announcement on the confirmed Cross Island Line MRT stations, corresponding condo project units have been moving weekly if not daily. Hougang will be an MRT Interchange & will be brought nearer to The Florence Residences being approximately 450m or 6 minutes stroll away.
Easy Access to CTE, Upp Serangoon Viaduct, KPE
Well-connected to various parts of the island & City areas via CTE, Upper Serangoon viaduct and KPE.
Upcoming Future Gen Workplaces
Commute between Home & Work within minutes. Be one MRT stop away from Defu Industrial City where future industries up the hip factor with eateries, cafes & other conveniences. With the growing young population in District 19, more future generation industries are set to expand in the upcoming Lorong Halus Industrial Estate, Ang Mo Kio Industrial/ Commercial, Paya Lebar Quarter Commercial, Punggol Digital District, Seletar Aerospace & Loyang Aviation Park.
Close Proximity to Malls, Food Joints & Amenities
Be unfazed by the rising costs of driving. Everything you need from supermarkets, boutiques, fancy to simple food joints, banks, clinics and even antique shops surround you. For food, hop from Lola's Cafe to Ponggol Nasi Lemak, Teochew Porridge outlets, to Durian street stalls, Foodcourts, Coffeeshops to choice restaurants.
"Adventure Cove" Resort Living
Other than The Clubhouse that offers a haven of soulful relaxation with a playful twist of energy, revel in a full of complement of lifestyle facilities, host gatherings at the high-ceilinged Dining Suite or keep the kids entertained in the Theatrette with Karaoke and Jamming Studio.
The Island Club consists of 15 remarkable facilities that capture the mystery of discovering a private island. With its meandering curved edges and islands of various sizes for different activities, the unique 80m island free-form lap pool with Sun Bathing Lawn and more brings the beauty of island living right in front of you. Not forgetting to mention the Play Club and Aqua Club for kids, there's also a Bikers' Pavilion, Sparring Ring, Pool Table & Dart Board Pavilion, and the Youth & Fitness Club for teenagers & young adults alike.
Iconic Project with Unblocked View
Be seen, be heard & be famous! The Florence Residences cannot go unnoticed in the Kovan subdivision in the Hougang planning area of District 19 North-east region.

Exclusive Penthouse Units
Who says that The Florence Residences is just a mass market project? Find penthouse units at the topmost floor of each stack with double volumed high ceilings that enables you to maximise space with furniture decks, allow even more ventilation & natural light into the unit, on top of the feel of grandiosity. If budget permits, discover 5-bedroom units with private lifts which most non-prime projects or normal sized condominium developments do not have to offer.
Quality Finishes
Branded Kitchen appliances (Electrolux), sanitary ware and fittings (Roca and Hansgrohe), Porcelain flooring for all units except for 5-Bedroom units where marble flooring is provided. Units are complete with Smart Storage carpentry systems and are Smart Home ready.
More Fringe Benefits..
It doesn't hurt to have 2 years of Free Shuttle Service to an MRT station, and even Free Classes to keep residents even more talented & entertained!
Attractive Entry Prices!!
Singapore's property climate is unique such that its citizens are used to living in a unit for 'free' if not for a 'profit'. In just decades after independence, Singapore rapidly developed from a low-income country to a high-income country, which also applied to its real estate. Therefore we still uphold the belief that even when a property is purchased purely for own stay, it should not lose money. One of the important criteria encompassing this theory is "entry price"!
Project Review
With such a crowded market and developers falling over each other in an attempt to gain that all important competitive edge, one that is brave enough to do something completely different should be applauded. And that is what Logan Property, in their very first solo project in Singapore have done. The concept of a club mentality is not entirely new, and most condos on the island dip their toes into the idea. The Florence Residences embraces it fully however, and in doing so has created something unique – at least for the time being.
Due to the project's nature, we will start with the club features and facilities, as well as its ethos. The thinking behind the concept is that as opposed to simply a roof over your head and a place to base yourself, The Florence Residences offers its residents a lifestyle choice. In much the same way that they and their families are looked after when they go to a club resort on holiday, they will have that experience right at home, 24/7.
The project boasts 128 facilities and 12 clubs. These are not just aimed at children, which is where many condos focus their attention but kids, teens, adults, sports enthusiasts, young mothers as well as the older generation.
Running through the large site like a river is an 80-metre pool. This achieves the dual feat of creating little secluded corners in which are housed several of the facilities, as well as being the central focus of the development, something that brings it all together.
Some of the stacks do not have units on the first two floors, creating a flow of air, as well as sight. Additionally, because of the low-rise nature of the surrounding neighbourhood, the majority of units will enjoy unblocked views.
Let's Study the Showflat Layouts!
Call 90095055 to Fix your Appointment to View the Showflat to Appreciate.
1 Bed + Study (527 sq ft)
With so much energy being spent on the facilities, it would have been easy for Logan to neglect the units, but that is very far from reality. With 10 different unit types, the project is designed to cater for everyone from single professionals, through young couples planning to start their family to those with three generations. Even the way the showflats are displayed (located opposite from where the development will be built), portrays a genuinely different way of thinking. For example, the one-bedder unit has been set up and decorated as if it is home to a young woman, as opposed to the more masculine overtones that tend to dominate showflats on the island.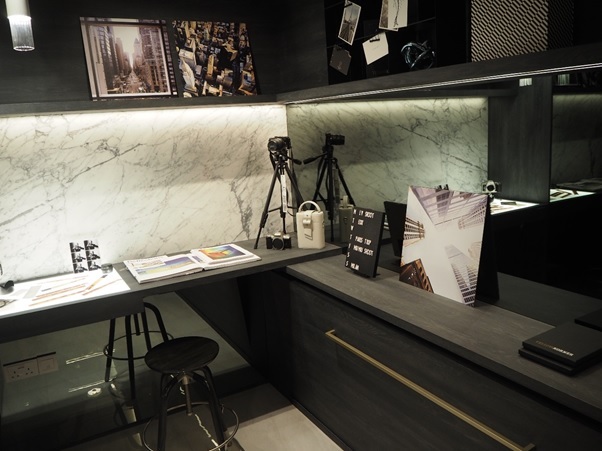 The study is big enough to accommodate a spare bed for guests, as well as provide a good space for working from home, studying or simply getting away from all distractions.
All units, no matter what the size or format, boast high quality appliances and fittings from Electrolux, Roca, Grohe as well as smart home features.
The kitchen in the one-bedder units is large enough to cook comfortably in and has adequate storage. The kitchen surface could double up as a breakfast bar, freeing up more space in the living area, should you wish.
Neat storage features are evident throughout the units, that are invaluable where every square inch is fought over.
The bedroom is easily big enough to fit a queen sized bed.
In keeping with the rest of the unit, the bathroom is far from pokey, and is also designed to allow wheelchair access.
2 Bed Deluxe (667 sq ft)
The two-bedder units, both the classic and the slightly bigger deluxe models are predominantly aimed at young couples, perhaps with a child, or with one planned. Otherwise, they provide a good living area with space for guests.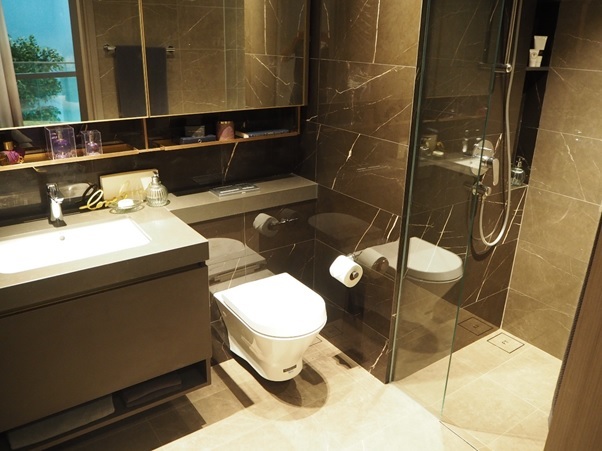 The large master bedroom comes with an en suite bathroom, and the second bathroom is also roomy and conveniently placed with regards to the living areas and second bedroom.
3 Bed Classic (926 sq ft)
Though obviously anyone could make their home here, the three-bedder classic and deluxe units are designed with slightly extended families in mind. The only differences between classic and deluxe units are that the deluxe ones are slightly bigger with a helper's room that can be converted into an ensuite study/ office.
Once again, the balconies are a very good size and can be put to so much better use than simply an area to dry laundry.
It also offers a good sized kitchen, with separate wet and dry areas and a lot of storage.
The master bedroom fits a king sized bed. It could also fit a bedside table or even a small laptop table just before the full height wardrobe. For those units on floors 15 to 18, the master bedroom has its own balcony.
5 Bed Penthouse (1,916 sq ft)
There are only 2 stacks of five-bedder units out of total 81 stacks in the project, and only two five-bedder penthouses at the 18th floor. The first thing you notice when you come in through the private lift lobby is the ceiling height. At 4.5 metres high, it really does give the rooms an incredibly spacious feel, and you could be forgiven for thinking you were actually in a landed property.
The living room/dining area gives ample space to have two distinct areas, and the large balcony can be used as a separate area, or an extension of the lounge, as and when the Singaporean weather dictates.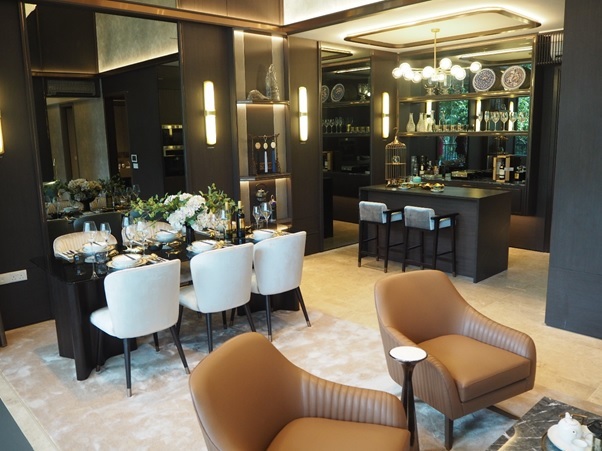 The kitchen island has a matt solid surface, both stylish and practical and gives the room a convivial quality. The large kitchen has separate wet and dry areas.
The smaller bedroom still comes with an en suite bathroom, which it shares with the junior master bedroom. The latter also has its own balcony.
The master bedroom has a walk-in wardrobe and an impressive sized en suite bathroom which contains a separate bath and shower and twin sinks.
Other Capital Appreciating & Rental Yielding Factors
The fact that The Florence Residences will be surrounded by major masterplanning such as the Cross Island Line which is just 6mins walk away, and future generation industries sprouting up nearby. And on top of that, other than being in a matured estate where almost any amenity can be found, there is a lack of competition when it comes to finding a new condo within the same vicinity.
If you prefer not to walk to any of the MRT stations, several bus services are available along the condo at Ave 2 & 10. It is also close to several reputable primary & secondary schools, such as Xinmin, Montfort, Holy Innocents', and International schools which spans from preschool level such as Pat's & Little Paddington, to International Baccalaureate at DPS Int'l, Lycee Francais & Stamford American, Diploma at Hillside World Academy, and Masters degree available at Dimensions Int'l.
The Florence Residences is also close to major entertainment hubs & conveniences such as at Heartland Mall, Hougang Mall & NEX where there are suites of amenities, such as supermarkets, banks, tuition centres, spas, cinema, library, restaurants, eating establishments, and more.
To Fix an Appointment or for Further Details, please Call/ Text 9009 5055:
*Disclaimer: Basis of all info & figures given here are from various sources (news, online, guides). Register early so as not to miss out on any Discounts & Free Gifts (if any), rolled out by the Developer for early birds (e.g. those with EOI & cheques submitted).
The Official Developer's Sales Team – The Florence Residences